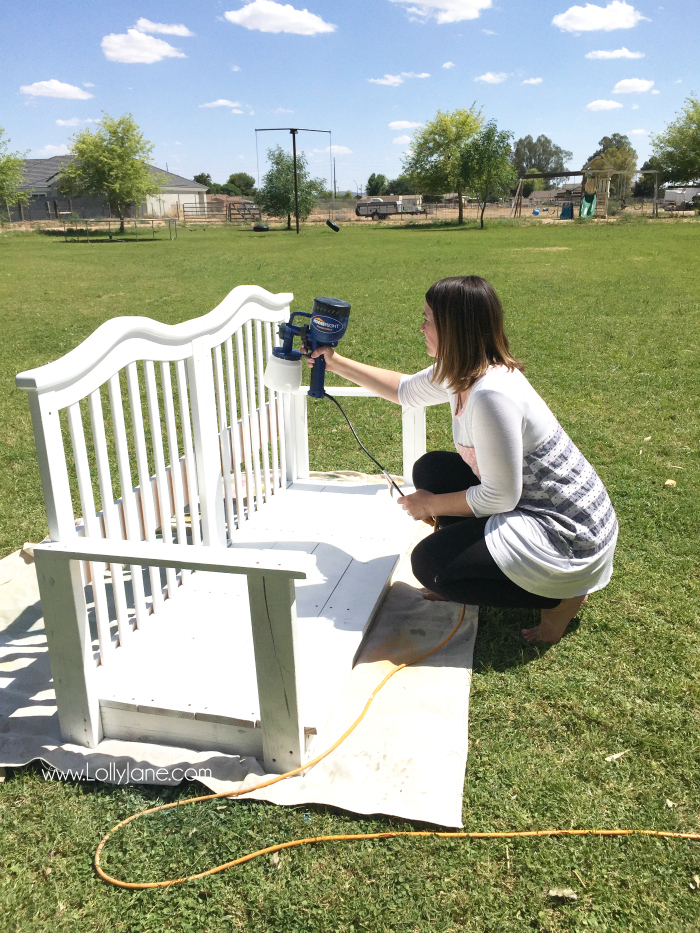 Let's admit it: it's hard to let your baby's things go. Getting rid of a crib is like getting rid of all the memories of stinky late night diapers, tucking your baby in after warm bottle feedings, and the morning gurgles your baby would give you when you lift them into the air.  We know how you feel so let us save you the heart-break with this adorable baby crib renovation. Lolly Jane's crib survived four babies and she decided to cherish the crib forever by turning it into a beautiful porch swing. Transforming this crib was easy: start by deconstructing the pieces and reconstructing it into a bench shape by using the two railing sides of the crib as the seat backs. You should then sand the structure down nicely with sandpaper or a handheld sanding machine. Afterwards, blow the dust off of the crib or wipe it down with a lint free cloth. And just like choosing your baby's clothing, now comes the most fun part: choosing the color of your paint! Be sure to select a paint that is suitable for the outdoors since your porch swing will be out in the elements. To make your paint job easy, use the Finish Max paint sprayer, which will give your new swing the perfect finish. Finally, attach a metal porch swing chain, acccessorize your seating area, and relax on your new porch swing with your growing, little munchkin!
Please login to post a comment.
Ready To Get Your Finish Max Paint Sprayer?