Hello Homeright Readers! It's Thea from That Sweet Tea Life and Im back today to share with you part 1 of my Front Porch refresh! Last time I shared with you how using your Homeright Sprayer can be KEY in creating beautiful white painted furniture in "How to Paint White Furniture with Flawless Results"! Today I am going to be sharing how I used my Super Finish Max to kick off this front porch refresh by giving the furniture an all new, classic, MATCHING paint finish!
Just take a look at this sad little situation we have here. Over time we have accumulated furniture including my Papas rocker. No matter how I decorated (or tried to ignore it) I couldn't make it all look cohesive. It was finally time to tackle this thing head on!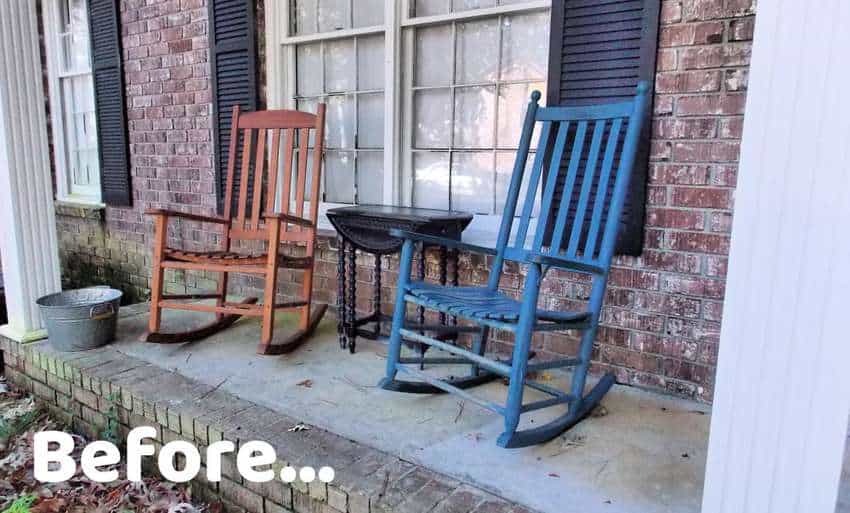 The heroes for today would be,.. my Super Finish Max...
my Homeright Medium Sized Spray Shelter that I was able to set up right in the front yard,...
and my Benjamin Moore Advance Paint!
What was awesome and satisfying is the ability to pull off the entire project in one day! I cleaned them up,..
painted them pretty...
and before I knew it, I had the beginnings of a great little space...
this is JUST what I needed to really spark my drive to complete the whole project! I LOVE being able to make such a huge impact in one day!
Do you remember what we started with??
A LOT better right??
I can't wait to get the whole porch finished but this is such an awesome start! To see all the gritty details on prep and how I did this you can head over to "Painted Rocking Chairs: A DIY You Can Do!" I hope you enjoyed this little Front Porch Refresh.
Please login to post a comment.
Ready To Get Your Super Finish Max HVLP Paint Sprayer?