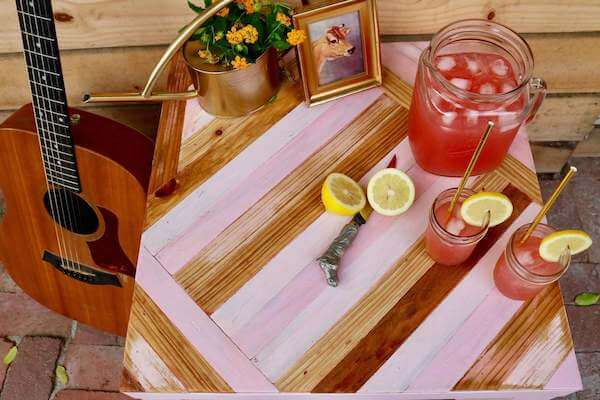 Don't throw that boring side table to the curb just yet! Even a plain, ugly table can be given new life with a fresh coat of paint and a little love. Skaie with Home Jelly, for example, took a bland IKEA piece and completely transformed it for her friend. This is what Skaie had to start with:
Boring, right? But don't worry. Remodeling furniture is one of the most fun things you can do as a Do-It-Yourselfer so Skaie knew JUST what to do for this project. Here's how she did it: 
1) Lightly sand your table
2) Apply one coat of bonding primer using your Finish Max Super (this is seriously the BEST way to paint furniture)
3) Apply two coats of latex paint
4) Create a pattern to use for the table top using  batten wood
5) Piece your wood slices together
6) Nail your wood pieces to your table top
7) Sand your table top
8) Paint or stain your table top in a beuatiful color of your choice!
9) Sand your table again for a distressed look
10) Spray with a clear coat of Polyurethane
FINISHED! These simple 10 steps should leave you with an eye-appealing, jaw-dropping, stunning table that you will want to cherish in your house for years to come. For more details on how Skaie did this project, head on over to her blog for the full story. You'll also be able to see how Skaie finished her project, but then had second thoughts, went with her gut, and remodeled the piece again!
Watch how she did it here:

Please login to post a comment.
Ready To Get Your Super Finish Max HVLP Paint Sprayer?